As my family and friends will tell you, I love watching basketball! March has become one of my favorite months because it means MARCH MADNESS and lots and lots of basketball. Even though I don't catch a lot of the regular season college basketball games, I still love filling out a bracket every year and cheering for my teams hoping to win family, friends or work pools. Selection Sunday is this Sunday, March 13th, so get your brackets printed and play along! Don't think that you have to know team stats to play or even win (because like me, I don't always know all the teams so I choose between the teams based on the team mascot, school colors or even the design of their jerseys). Have fun filling out your brackets and make some Rice Krispie treat basketballs to get into the spirit! The First Round (aka the Big Dance) March 15-16. To stay up to date on whose playing, schedules and scores, download the NCAA March Madness Live app. Good luck to everyone!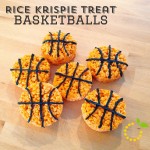 Basketball Rice Krispie Treat Recipe
2016-03-11 10:46:10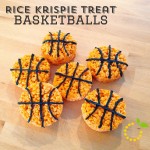 Ingredients
5 tablespoons butter
8 cups mini marshmallows
6 cups Rice Krispie cereal
Orange food coloring
Black frosting, black candy melts, or chocolate chips
Circular cookie cutter
Piping bag
Instructions
Line a 9x13 inch pan with foil and spray with non-stick spray, set aside.
In a large pan, over medium-low heat, melt the butter. Once butter is melted add 6 cups of mini marshmallows. Stir together and just before the marshmallows are melted add in the food coloring until desired color is reached.
Remove from heat and stir in Rice Krispie cereal. Stir together until cereal is barley coated with marshmallow mixture. Now stir in remaining 2 cups of marshmallows.
Pour into prepared pan and press evenly into pan.
Allow to completely cool before using the cookie cutter to cut out the basketballs.
If using candy melts or chocolate chips to decorate, place 1-1 & 1/2 cups of chocolate into a microwave safe bowl and heat in 30 second increments until melted.
Place the frosting or melted chocolate into a piping bag.
Sweet Lemon Made https://sweetlemonmade.com/