I've got an unconventional cupcake flavor I whipped together that I think you should try out–spaghetti and meatball. You're probably thinking that I've gone insane but, trust me it tastes really good!
Just kidding!! APRIL FOOL'S! Gotcha ya!
I have a love/hate relationship with April Fool's Day because I love to play tricks on people but, I hate getting tricks played on me! So for me, I bake treats that look like food to trick my family, friends, and coworkers but, lucky for them they never taste awful!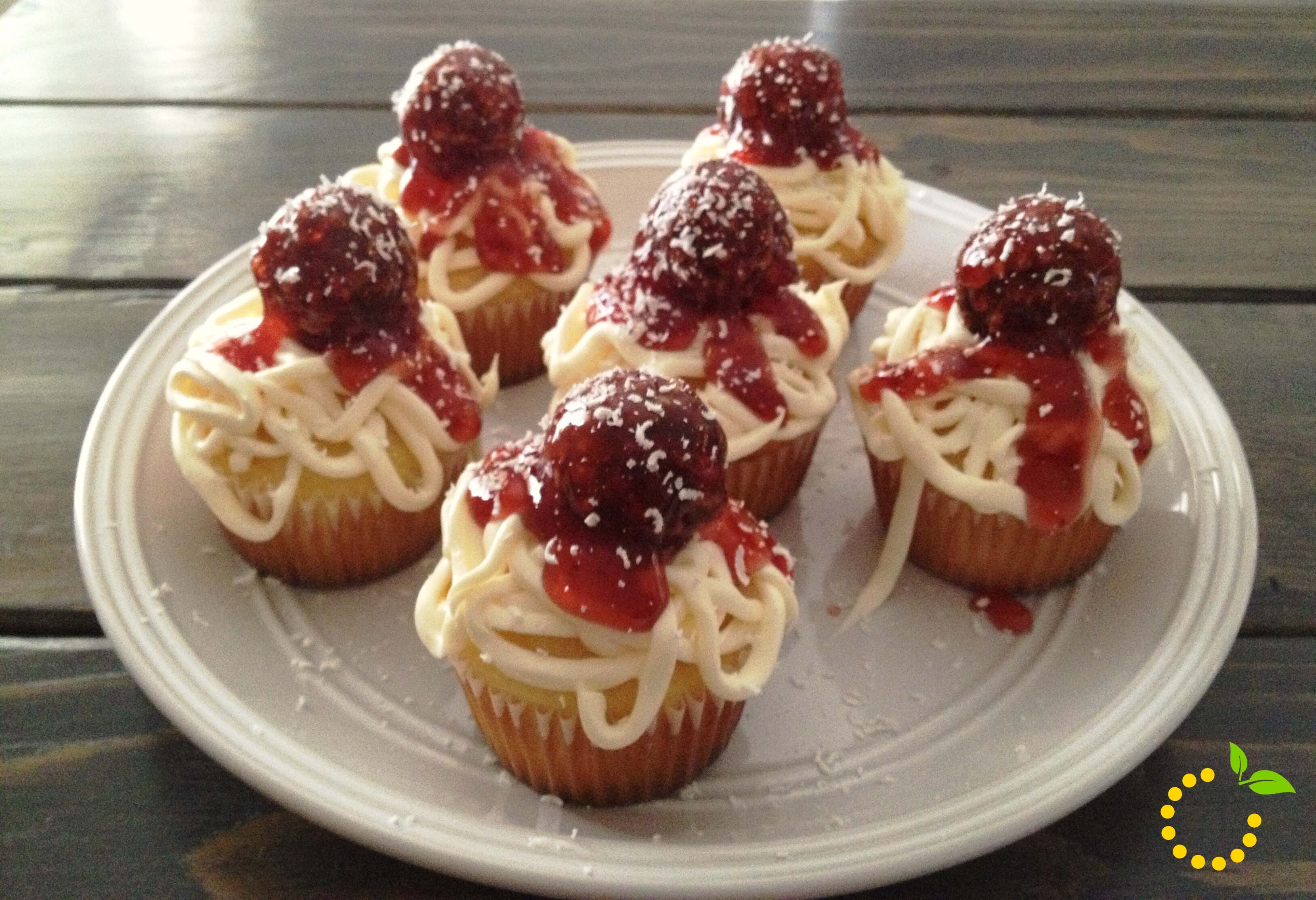 So, if you want to play an April Fool's Day joke on your family, friends, or coworkers without being mean spirited these spaghetti meatball cupcakes will fool them but won't make them want to gag! Some of them will think you are crazy for wanting them to try a spaghetti and meatball cupcake but, little do they know it actually tastes pretty good! The chocolate cupcake with "cream cheese frosting" spaghetti noodles, a "Ferrero Rocher" meatball, "strawberry jelly" marinara sauce, and "grated white chocolate" Parmesan cheese doesn't taste all that bad! And I'm not just saying that to get you to eat it and for me to say "April Fool's"! Or am I? I'm just messing with you, they taste good! 🙂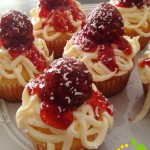 Spaghetti and Meatball Cupcakes
2016-04-01 12:11:49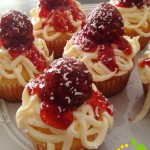 A delicious vanilla cupcake with cream cheese filling.
Ingredients
VANILLA CUPCAKES
1 1/2 cups cake flour
1 1/4 cups all-purpose flour
2 1/2 tsp baking powder
1/4 tsp salt
1 cup unsalted butter, softened
2 cups granulated sugar
4 eggs, room temp
4 tsp vanilla extract
1 cup undiluted evaporated milk
CREAM CHEESE FILLING
8 ounces cream cheese, room temp
5 tbsp. unsalted butter
2 1/2 cups powdered sugar
2 tsp. vanilla
ADDITIONAL CUPCAKE INGREDIENTS
Strawberry jelly
Dozen Ferrero Rocher
Almond bark
Instructions
Preheat oven to 325 degrees.
Sift together the flours, baking powder, and salt and set aside.
Cream together butter and sugar in a mixer until light and fluffy.
Add eggs, one at a time, beating well after each addition.
Beat in vanilla extract.
Gently fold in the dry ingredients in three equal portions, alternating with the milk (start with dry ingredients and end with dry ingredients).
Pour batter evenly into paper lined muffin pan.
Bake for 12-16 minutes or until a toothpick inserted into the center comes out clean. Watch cupcakes carefully, making sure to not over bake. As soon as the toothpick comes out clean, remove the cupcakes from the oven. Let cool for 2 minutes and remove from pan and let them cool completely on a cooling rack.
Next up is the cream cheese filling. In a bowl of a stand mixer fitted with the paddle attachment beat the cream cheese and butter on medium speed until well combined and smooth, about 2-3 minutes.
Mix in the vanilla extract.
Gradually add in the powdered sugar until desired consistency is reached and smooth--should be thick but, not too thick.
Transfer the cream cheese filing to a pastry bag fitted with a small round tip.
Notes
Cupcake Assembly
1. Pipe cream cheese frosting onto the cupcakes in a figure-eight motion to make it look like spaghetti.
2. Unwrap a Ferrero Rocher and roll it in the jelly to coat it. Place in the middle of the cupcake and drizzle a little extra "sauce" jelly on top.
3. Grate almond bark on top to make it look like Parmesan cheese.
Sweet Lemon Made https://sweetlemonmade.com/