These chocolate peanut butter bars are chewy, peanut buttery and chocolatey. I don't know about you but, every time I eat one of these chocolate peanut butter bars it takes me back to elementary school when we would get them as a dessert with our school lunch…it was then that I fell in love with these chocolate peanut butter bars! I wonder, do they even serve these anymore? If not, kids these days don't know what they are missing out on (poor kids).
These oh so delicious peanut butter bars are one of those treats that people just can't get enough of–I think most people would agree with me when I say that you just can't eat one. 🙂 Here's some proof of that. I recently gave some to a friend and when I told him that I forgot to tell him to put any leftovers in the fridge, his response was "…I didn't have any leftover, they were so good–I ate all 6 of them!", my other friend's husband and daughter told her she wasn't allowed near the box of them because they wanted the rest to themselves (haha!), and the comment that made me laugh was from another friend and he said "…these are good and you know you can trust my statement coming from a guy that looks like he likes to eat (haha!)" When your friends are saying comments like these, you know they love them!
This recipe is spot on and taste as good as "the lunch ladies" peanut butter bars. This recipe is so easy to make and the best part is, it makes an entire cookie sheet! It's a good thing because you may just want to share some and devour the rest!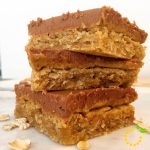 Chocolate Peanut Butter Bars
2016-05-16 16:09:21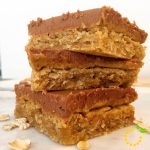 For the crust
1 cup unsalted butter, room temp
1 cup granulated sugar
1 cup brown sugar, firmly packed
1 teaspoon vanilla extract
2 large eggs
1 cup peanut butter + about 1 and 1/2 cups to spread on top of crust
2 cups rolled oats
2 cups all-purpose flour
1 teaspoon baking soda
1 teaspoon salt
For the frosting
1 lb. powdered sugar
3/4 cup butter, room temp
1 and 1/2 teaspoons vanilla extract
5 oz. evaporated milk
4 tablespoons cocoa powder
For the crust
Prepare and grease a standard size cookie sheet with sides and set aside. Tip: use the wrappers from the butter to grease the pan.
Cream together the butter and the sugars for 3-5 minutes until light and fluffy.
Add vanilla, eggs, and peanut butter. Mix until combined.
Add rolled oats, flour, baking soda, and salt. Mix until well combined.
Spread mixture onto the cookie sheet evenly and bake at 350 degrees F for 15 minutes. The crust may come out really puffed up and soft but, it will continue to bake and it will fall as it cools. Be careful to not over bake.
Once the crust is completely cooled, spread about 1 and 1/2 cups or as much as you need to cover the whole top of the crust. Pop it into the fridge while you make the frosting.
For the frosting
Combine all ingredients into a bowl and mix until well incorporated and fluffy.
Take the crust out of the fridge and spread the chocolate frosting all over.
Place back into the fridge and let it set for 15- 20 minutes or overnight and then cut and enjoy!
Sweet Lemon Made https://sweetlemonmade.com/