These glazed lemon poppy seed mini bundt cakes are not only cute, they are moist and packed full of tangy lemon flavor. The cakes are topped with a generous drizzle of lemon syrup and lemon glaze, adding more moisture and lemon flavor.

I was inspired to make these mini lemon poppy seed bundt cakes to celebrate our one-year blogiversary! And by the way, where has the time gone?!? I can't believe we've been doing this for a whole year! It's been an adventure! To celebrate this momentous milestone, I knew I wanted to make something lemon-y to celebrate with all of my supportive friends, family and coworkers! Lemon was only fitting to go with our blog name and the fact that I'm itching for warmer weather.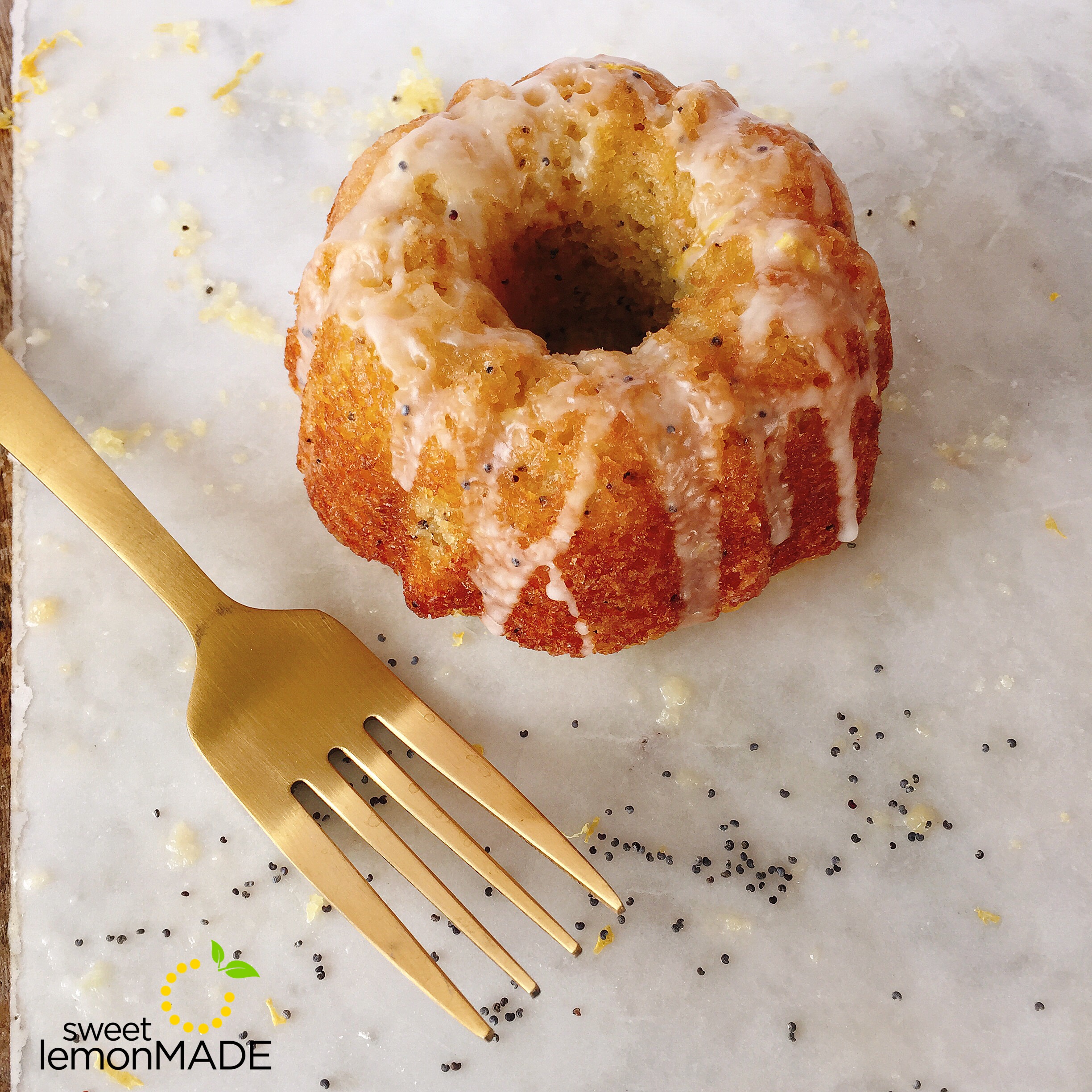 You may find it weird to add yogurt into the recipe but, it adds a little more tang to the flavor of the cake and it also replaces the oil you would normally use in a cake recipe. Tip: I used Tillamook vanilla yogurt but, if you normally eat plain yogurt and have that on hand you can use that in substitution.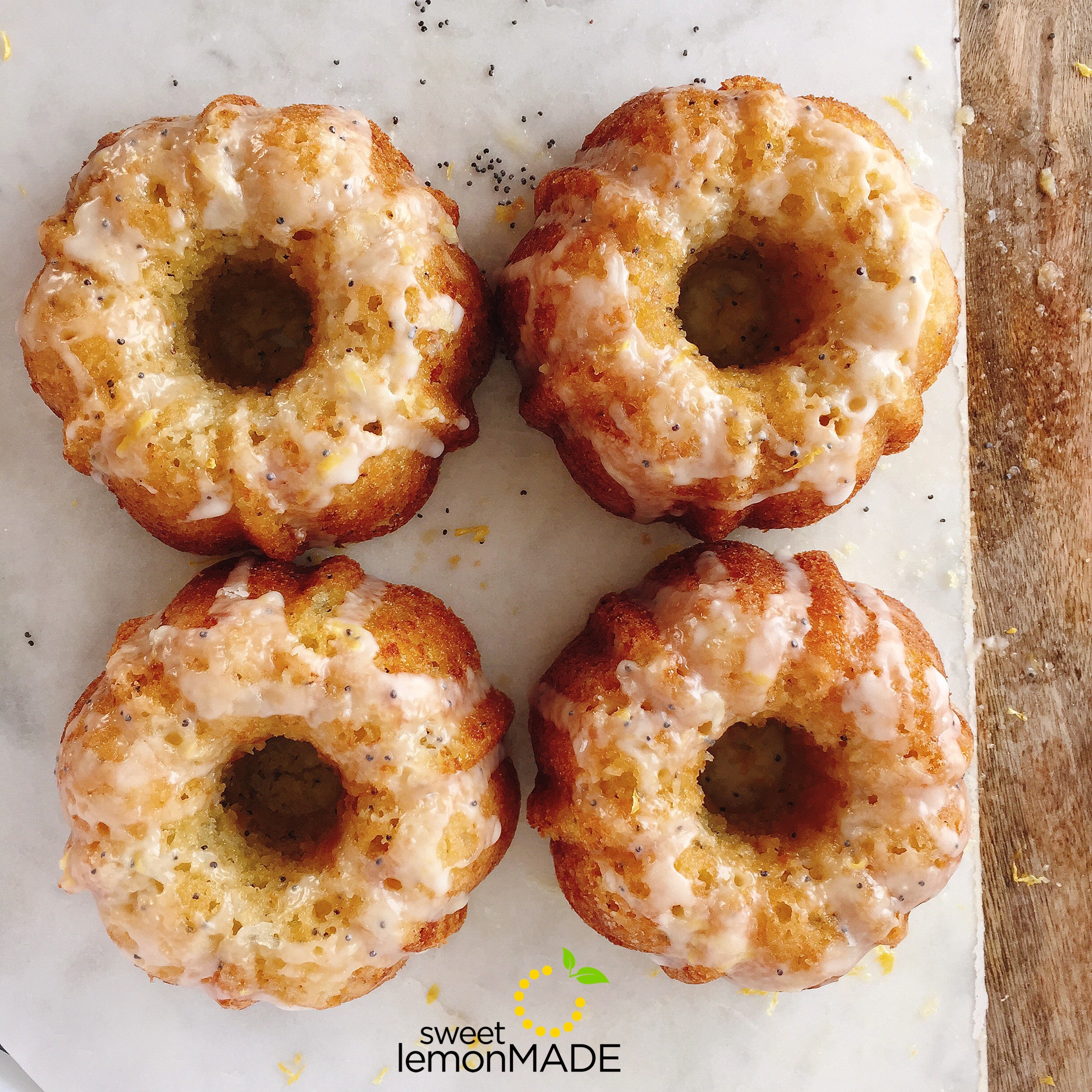 After playing around with differ amounts of lemon flavor, the amount in this recipe seems to be the perfect amount according to my helpful and trusty taste testers (aka my friends and family). I personally really love lemon-y lemon poppy seed cake too. And I knew these were a hit when a few of my friends ended up eating all of the cakes they were suppose to share with their family or on the other hand when a few of my other friends wanted to share these delicious cakes with their own friends! These cakes taste even better once they've had time to sit and the lemon syrup and lemon glaze have had a chance to soak into the cake.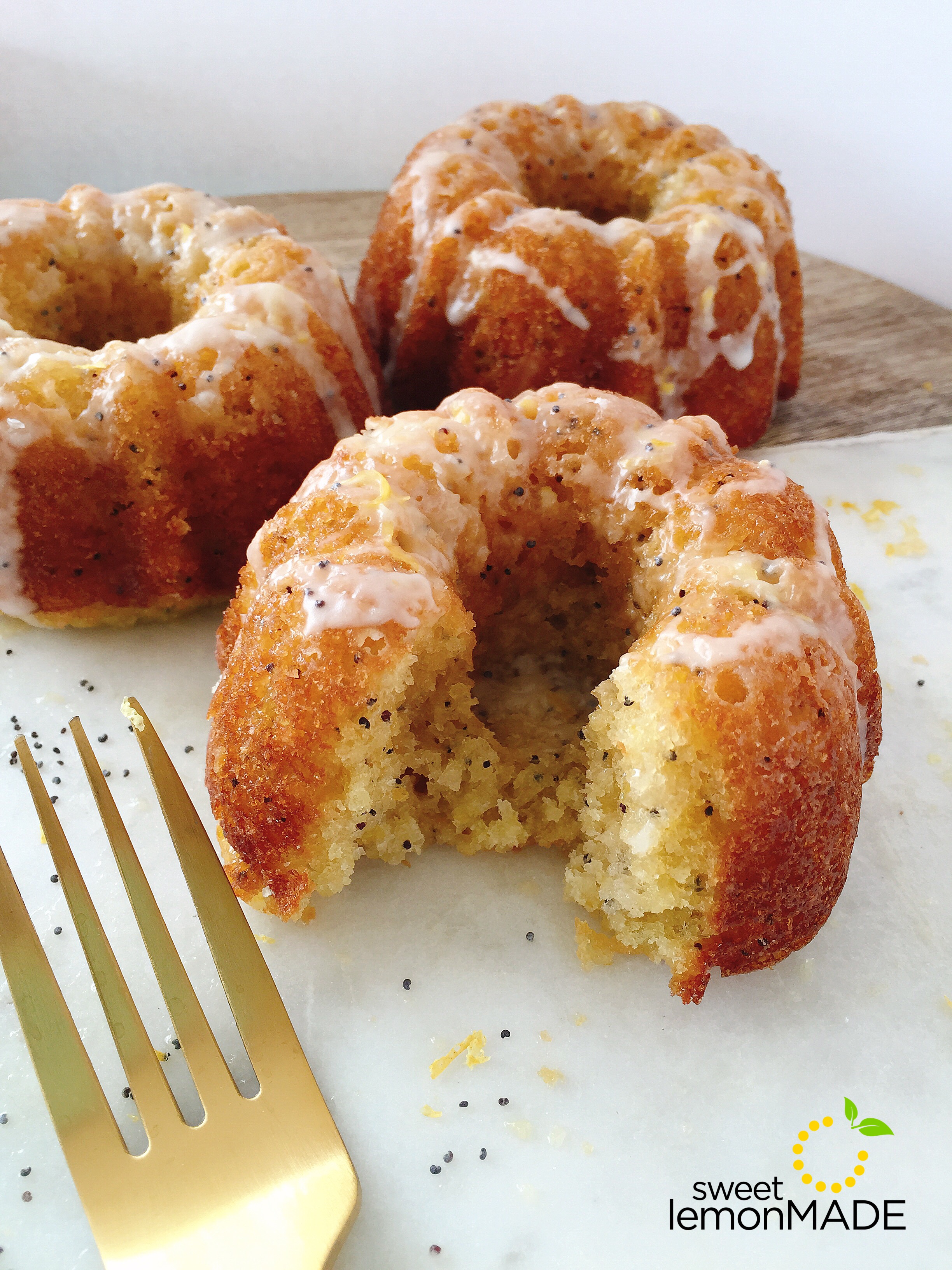 Your friends and family will love you if you make these delicious cakes for them!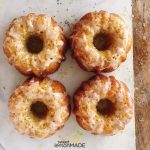 Glazed Lemon Poppy Seed Mini Bundt Cakes
2017-03-06 17:17:46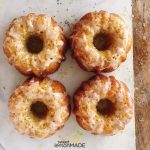 Ingredients
CAKE
1 cup unsalted butter, softened
2 and 1/2 cups granulated sugar
4 eggs
2 teaspoons vanilla extract
1/4 cup fresh squeezed lemon juice
1/4 cup lemon zest, packed
4 cups cake flour
2 teaspoons baking soda
1 teaspoon salt
1 cup vanilla yogurt (I used Tillamook brand)
1 cup buttermilk
4 teaspoons poppy seeds
LEMON SYRUP
1/3 cup granulated sugar
1/3 cup fresh squeezed lemon juice
GLAZE
2 cups powdered sugar, sifted
4 tablespoons fresh squeezed lemon juice
1/2 teaspoon poppy seeds
1/2 tablespoon lemon zest
Instructions
Preheat oven to 350 degrees F. Prepare mini bundt cake pan with nonstick spray and flour.
Using an electric mixer, cream together butter and sugar on medium speed for 2 minutes or until smooth and fully incorporated.
Add in vanilla, eggs, lemon juice, and lemon zest until incorporated.
Add in flour, baking soda, salt, yogurt, buttermilk, and poppy seeds. Mix on low for 1 minute and then on medium for 2 minutes or until well blended.
Fill each cavity 2/3 full and bake 15-20 minutes or until a toothpick inserted into cake comes out clean.
Let cakes cool in pan for 10 minutes.
Invert pan onto cooling rack and let cool for 15 minutes.
While cakes are cooling, prepare lemon syrup by combining sugar and lemon juice in a small saucepan over medium heat until sugar dissolves. Once dissolved, remove from heat and let cool.
While waiting for lemon syrup to cool, prepare glaze by combining sifted powdered sugar, lemon juice, poppy seeds, and lemon zest in a medium sized bowl.
Once cakes and lemon syrup have cooled, place cakes on a baking sheet and drizzle each cake with lemon syrup and then a generous drizzle of glaze over the top.
And ENJOY!
Sweet Lemon Made https://sweetlemonmade.com/