Easter is just right around the corner! If you are in charge of making a dessert, these cupcakes are cute and delicious. Cadbury Mini Eggs are one of my favorite Easter candies so, when I saw these cupcakes on my Pinterest feed, I knew I had to make them because I couldn't pass up the chance to add Cadbury Mini Eggs to a cupcake! I just can't get over how cute these little chicks are! These fluffy vanilla cupcakes, with chocolate buttercream frosting, shredded coconut, and the cutest Cadbury Mini Egg chicks are the perfect addition to any Easter celebration. Warning: you may need to buy an extra bag of Cadbury Mini Eggs, you won't be able to resist snacking on them while you make these delicious cupcakes! 🙂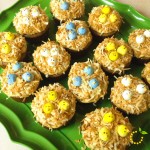 Birds Nest Cupcakes
2016-03-24 11:29:29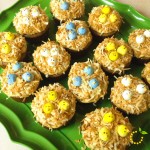 Fluffy vanilla cupcakes with chocolate buttercream frosting.
Ingredients
VANILLA CUPCAKES
1 1/2 cups cake flour
1 1/4 cups all-purpose flour
2 1/2 tsp baking powder
1/4 tsp salt
1 cup unsalted butter, softened
2 cups granulated sugar
4 eggs, room temp
4 tsp vanilla extract
1 cup undiluted evaporated milk
CHOCOLATE BUTTERCREAM FROSTING
2 cups powdered sugar
1/3 cup salted butter, softened
2 Tbsp heavy cream
1/2 tsp vanilla extract
1 Tbsp cocoa powder
Yellow and red food coloring gel
ADDITIONAL INGREDIENTS
1 cup sweetened coconut flakes
Cadbury Mini Eggs
1 Tbsp semi-sweet chocolate chips
Cupcake liners
Instructions
To make the vanilla cupcakes, preheat oven to 325 degrees.
Sift together the flours, baking powder, and salt and set aside.
Cream together butter and sugar in a mixer until light and fluffy.
Add eggs, one at a time, beating well after each addition.
Beat in vanilla extract.
Gently fold in the dry ingredients in three equal portions, alternating with the milk (start with dry ingredients and end with dry ingredients).
Pour batter evenly into paper lined muffin pan.
Bake for 12-16 minutes or until a toothpick inserted into the center comes out clean. Watch cupcakes carefully, making sure to not over bake. As soon as the toothpick comes out clean, remove the cupcakes from the oven. Let cool for 2 minutes and remove from pan and let them cool completely on a cooling rack.
Next up is the chocolate buttercream frosting. In a large mixing bowl, using an electric mixer whip together powdered sugar, butter, heavy cream, and vanilla extract for 1 minute until smooth and fluffy.
Scoop out 2 and 1/2 tablespoons of the frosting into a small bowl and tint it with yellow and red gel food coloring (you will only need a tiny bit) until you get the desired orangish-yellow color to your liking for the beaks.
Add cocoa powder to the remaining frosting mixture and whip together with electric mixer until well combined.
Notes
ASSEMBLING THE CUPCAKES
1. Toast coconut flakes by preheating oven to 350 degrees. Spread coconut onto a cookie sheet and bake for 8-9 minutes or until golden brown, rotating pan halfway through baking. Watch closely to prevent over toasting. Allow to cool.
2. Frost cooled cupcakes with chocolate buttercream frosting.
3. Gently press 3 Cadbury Mini Eggs into the center of each cupcake with the pointed end facing down into the frosting and the large rounded end facing up.
4. Sprinkle toasted coconut around the Cadbury Mini Eggs (work quickly before the frosting sets so the coconut sticks better).
5. Fill a ziploc bag with orange tinted frosting. Using scissors cut a very small tip off of the corner of the bag and pipe beaks onto the Cadbury Mini Eggs.
6. Melt chocolate chips in a microwave safe bowl in the microwave in 20 second intervals, stirring between each interval until melted and smooth. Using a toothpick, dip the end of the toothpick into the chocolate and dab the eyes onto the chicks.
Chocolate butter cream frosting recipe adapted from cookingclassy.com
Sweet Lemon Made https://sweetlemonmade.com/