Even though we had a winter day in May here in Utah, it's starting to feel like summer. And that means BBQ grillin' time and summer foods! These Caprese salad skewers are perfect bites of freshness and assembly is as easy as 1…2…3!
Basil
Mozzarella ball
Tomato
Made with fresh mini mozzarella balls, skewered with tender basil leaves and juicy tomatoes and drizzled with balsamic vinegar. Tip: You can use a plain balsamic vinegar or try our secret ingredient–pomegranate balsamic vinegar from a local Ogden restaurant called Hearth on 25th! You can also find it online here.
This stuff is delicious! This simple appetizer will have people coming back for more and I know they won't be able to eat just one!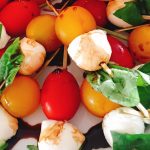 Caprese Salad Skewers with Balsamic Drizzle
2017-05-22 17:12:19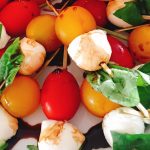 Ingredients
Fresh mini mozzarella balls
Cherry or grape tomatoes
Fresh basil leaves, cut if large
Balsamic vinegar or our favorite pomegranate balsamic vinegar
Toothpicks or bamboo skewers
Instructions
Drain mozzarella balls.
Wash and dry tomatoes and basil leaves.
Cut basil leaves if too large.
Assemble skewers--basil, mozzarella ball, and then tomato.
Plate and drizzle with balsamic vinegar.
Serve and enjoy!
Notes
Tip: If you would like to make the balsamic into a glaze here are the instructions.
1.Over high heat, bring balsamic vinegar to a boil in a saucepan. Lower heat to medium and simmer for about ten minutes, or until it has slightly thickened.
2.Remove from heat and let cool.
Sweet Lemon Made https://sweetlemonmade.com/