These grasshopper mint cookies are chocolatey, minty, soft and chewy, and taste just like a Girl Scout thin mint. Have I caught your attention yet?!? I hear thin mint and I'm sold! ? And the other great thing about these cookies are that they are cake cookies which means they are super soft.
It's Girl Scout season now but, once it ends and you get a craving for those thin mints, you won't have to wait until the next year! Just whip up a batch of these in the meantime to satisfy your craving.
The one thing that is a bit tedious with this recipe is having to unwrap each mint. If they sold them in bulk without wrappers. It would make things so much easier but it's worth it for the flavor it adds to the cookies and the presentation. I'm all about presentation!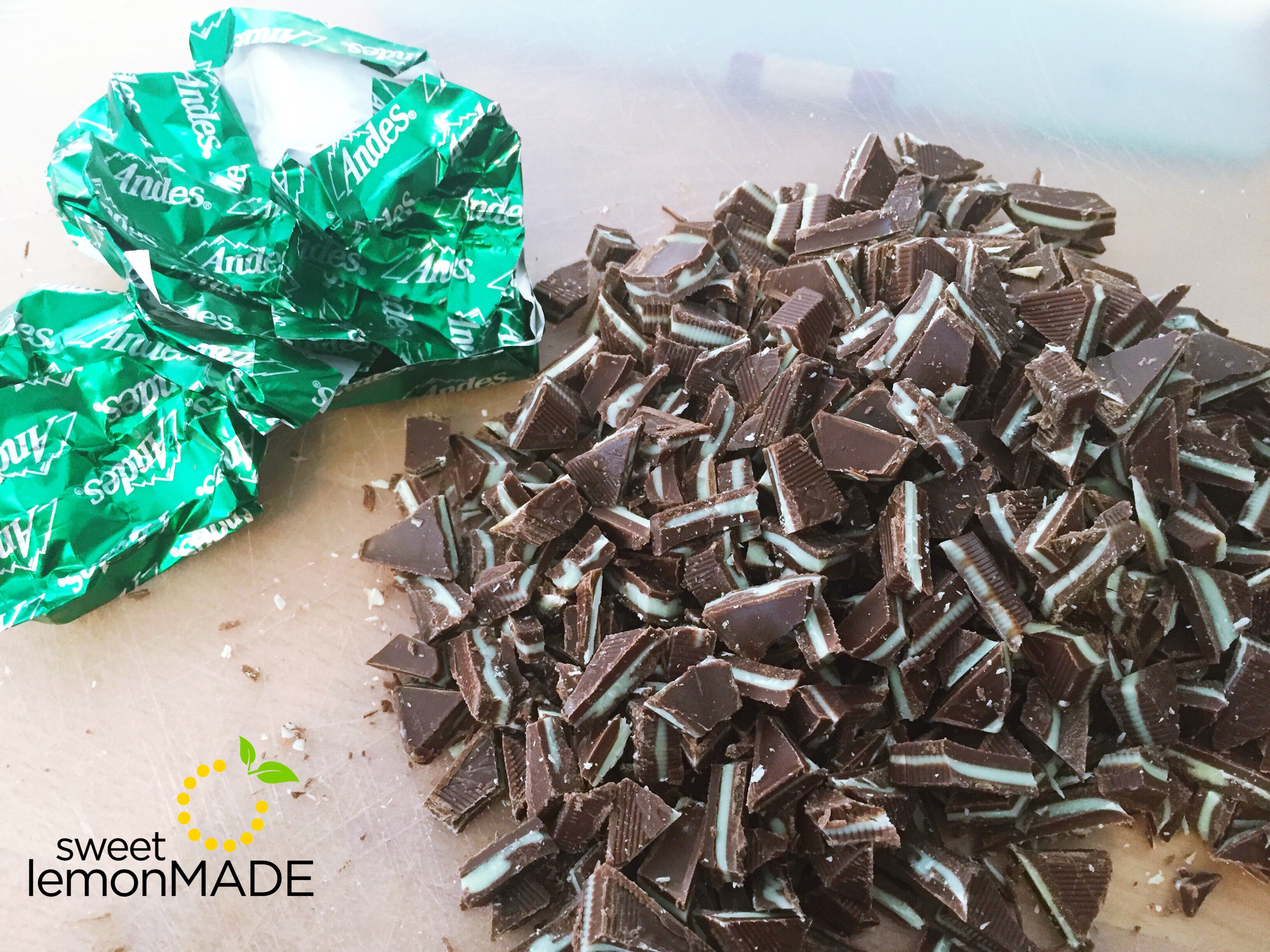 Be sure to pin this recipe to your Pinterest board to have on hand. Your family, friends, and coworkers will love you if you make them a batch when they are craving or can't get their hands on some Girl Scout cookies!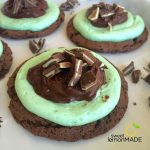 Grasshopper Mint Cookies
2017-03-27 17:51:15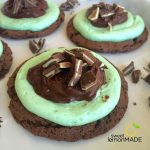 Ingredients
COOKIES
1 box Devil's Food Cake
2 eggs
1/2 cup unsalted butter, melted
1 teaspoon vanilla extract
2 tablespoons light brown sugar
FROSTING
3/4 cup unsalted butter, softened
1 1/2 teaspoons peppermint extract
2-3 cups powdered sugar
green food dye
Milk, if needed
CHOCOLATE GLAZE
1 1/2 cups chocolate chips
4 tablespoons butter
Andes Mints, roughly chopped for garnish
Instructions
Chill dough for 30 minutes (I prefer to but not a must).
Preheat oven to 350 degrees and line cookie sheets with parchment paper.
Melt butter and let cool so that you don't cook your eggs when mixing together.
Combine cake mix, eggs, cooled melted butter, vanilla and sugar. *Note: the batter will be stiff, so don't be worried.
Make dough balls a little larger than a tablespoon and place on cookie sheets to bake.
Bake for 8-9 minutes and let cool on cooling racks.
While the cookies are baking, unwrap Andes mints and roughly chop them.
TO MAKE THE MINT FROSTING: Beat butter for 2 minutes. Add peppermint extract and slowly add in the powdered sugar until you reach your desired consistency. Add 1-2 tablespoons milk if it gets too thick. Add green dye for color (I used about 8-9 drops).
FOR THE CHOCOLATE GLAZE: Melt chocolate chips and butter together in a microwave proof bowl. Microwave for about 30 seconds, then stir, then microwave in 10 second increments and stir until smooth.
Pipe on frosting, flatten frosting and make a slight indent in the middle with a knife or off set spatula if needed for the chocolate glaze, spoon on your glaze, and top with Andes mints.
Sweet Lemon Made https://sweetlemonmade.com/