Summer has been awesome. Campfires, sunscreen and treats everyday. I mean, right? You're eating treats everyday too, no? I don't know if you've heard, but I love s'mores. And this summer has got me hooked—like addicted. I need s'mores like a pregnant lady needs pickles and ice cream. My new found love affair poses a few logistical concerns as you can imagine. I want s'mores way more often than is feasible to build a campfire. However, late one night when the campfire cravings came a knocking, in a stroke of genius I decided to fire up the gas stove in the kitchen to toast my mallow. And IT. Was. Perfect. It's now become a nightly routine. All you need is a fork to roast the marshmallows gently over that smokin' blue flame. Once golden and sizzling grab your graham crackers topped with chocolate and squish that s'more into a melty, delicious summer treat. And the best part is you don't have to wash your hair six times to get the campfire smell out!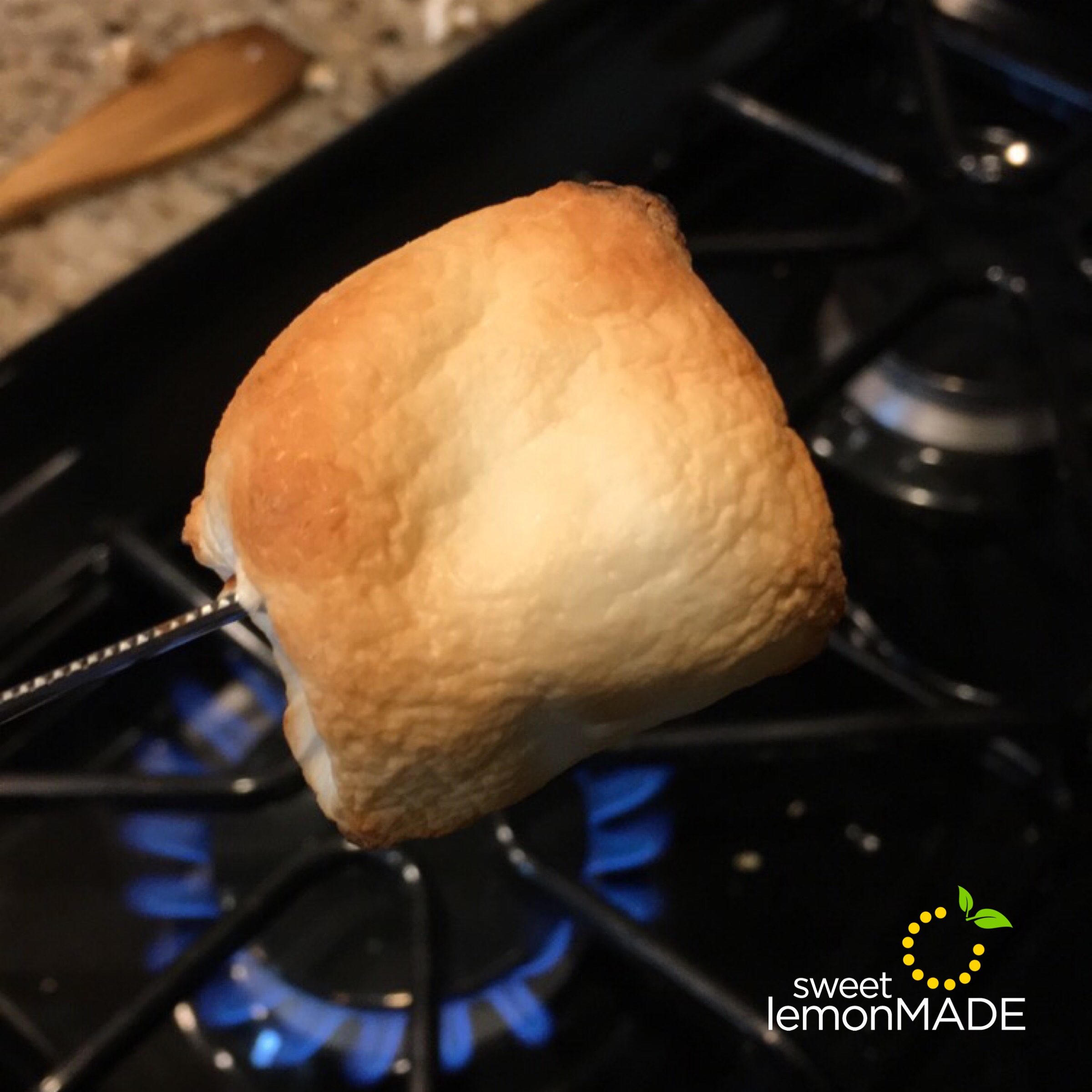 As my love (read: addiction) for s'mores continued to blossom I needed to find a way to share it with the masses (aka my family). I needed a way to get a lot of bang for my s'mores buck if you know what I mean. And I remembered having an out-of-this-world s'more pizza in NYC. If I could have flown one in that night, I would have. I think Google is working on an algorithm for telepathic pizza delivery, but apparently there are still a few kinks to work out. So I was forced to go old-school and search "s'mores pizza recipe" on the interwebs. After skimming options, I stumbled upon this great recipe with a homemade graham cracker crust and gooey mallow middle. Insert heart eye emoji. If you're looking to feed a crowd a campfire classic or just want a flame-less alternative to feed your summer s'mores addiction look no further! This pizza is great hot and gooey, but is also tasty at room temperature. And if you eat it the morning after, go ahead and call it a "breakfast pizza." That's a thing, right? It is in my house.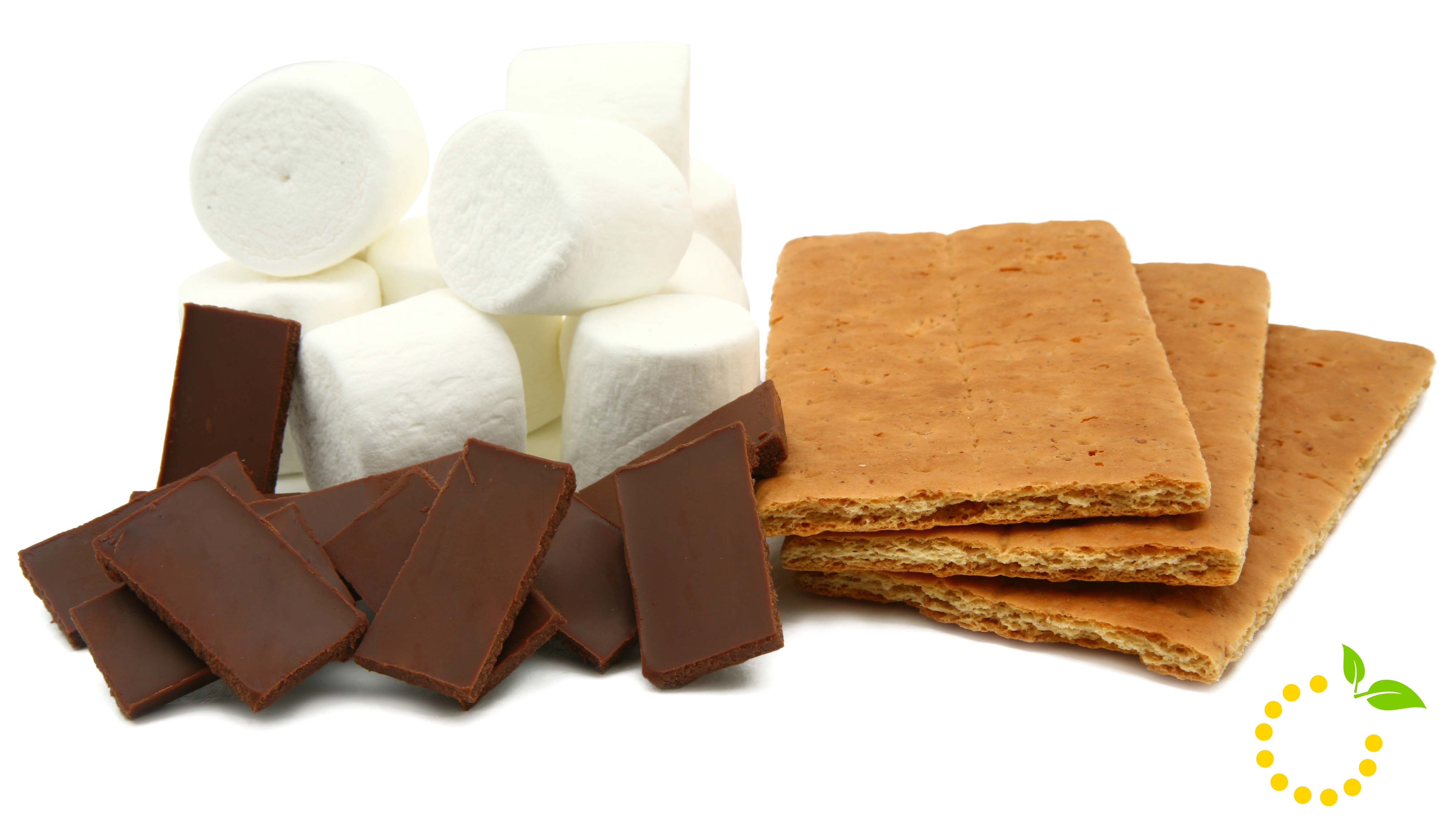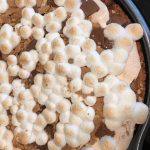 S'mores Pizza
2016-08-11 18:39:50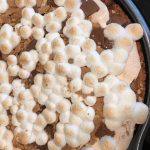 Ingredients
1 1/2 cups Graham cracker crumbs (about 12)
1/2 cup all purpose flour
1/4 cup butter, melted
1/4 cup light brown sugar
1 egg
2 teaspoons vanilla extract
1/2 teaspoon baking soda
For the topping
7 oz. jar Marshmallow cream
8 Hershey's bar
1 1/2 cups mini marshmallows
3-4 Graham crackers
Instructions
Preheat oven to 350 degrees F.
For the crust, crush up graham crackers by hand using a ziploc gallon bag and a rolling pin or with a food processor. Melt butter and mix with sugar.
Mix in egg and vanilla.
In a separate bowl combine the dry ingredients--flour, salt, and baking soda then combine and mix with the butter and sugar. Mixture will be slightly crumbly.
Press the mixture evenly into a greased 12 inch pizza pan.
Break up 6 Hershey's bars and spread even on top of graham cracker crust.
Scoop out marshmallow cream and dollop on top of chocolate using 2 spoons, then gently spread making sure not to get too close to the edge. Otherwise it will melt over the sides when baking.
Bake for 18 minutes.
While the crust is baking, break up 2 remaining chocolate bars into small pieces, 2 graham crackers into small pieces, and crush remaining 1-2 graham crackers into crumbs.
After 18 minutes remove from oven and turn on the broiler.
Top pizza with mini marshmallows, chocolate, graham cracker pieces and crumbs.
Place back into oven and broil for about 1 minute to toast.
Cut and serve.
Sweet Lemon Made https://sweetlemonmade.com/