Summer is about to come to an end but, eating our favorite summertime treat doesn't have too! If you are as obsessed about s'mores as we are, check out all of our yummy non campfire s'mores treats you can make. Continuing s'mores week on the blog, we have another recipe to share. These s'mores stuffed peanut blondies are layered with peanut butter blondie dough, graham crackers, Hershey chocolate bars, marshmallow creme, and topped with more peanut butter blondie dough all baked to perfection!
When you bite into this blondie it's soft and chewy and a bit messy but, so worth eating! If you happen to not finish the whole pan (very unlikely–haha!) you can store them in the fridge. Enjoying them straight out of the fridge is just as good and is a less messier version. You can always pop them into the microwave for 5-10 seconds to get the marshmallow cream a little ooey gooey and the chocolate a bit melty! And those of you out there that aren't obsessed with s'mores or may not even like s'mores shouldn't count this dessert out! I gave some of these to my friend not knowing she didn't really like s'mores and when I asked her how she liked them she said that she loved them even though she doesn't really like s'mores normally. Have we turned you into a s'mores lover with all of our s'mores desserts?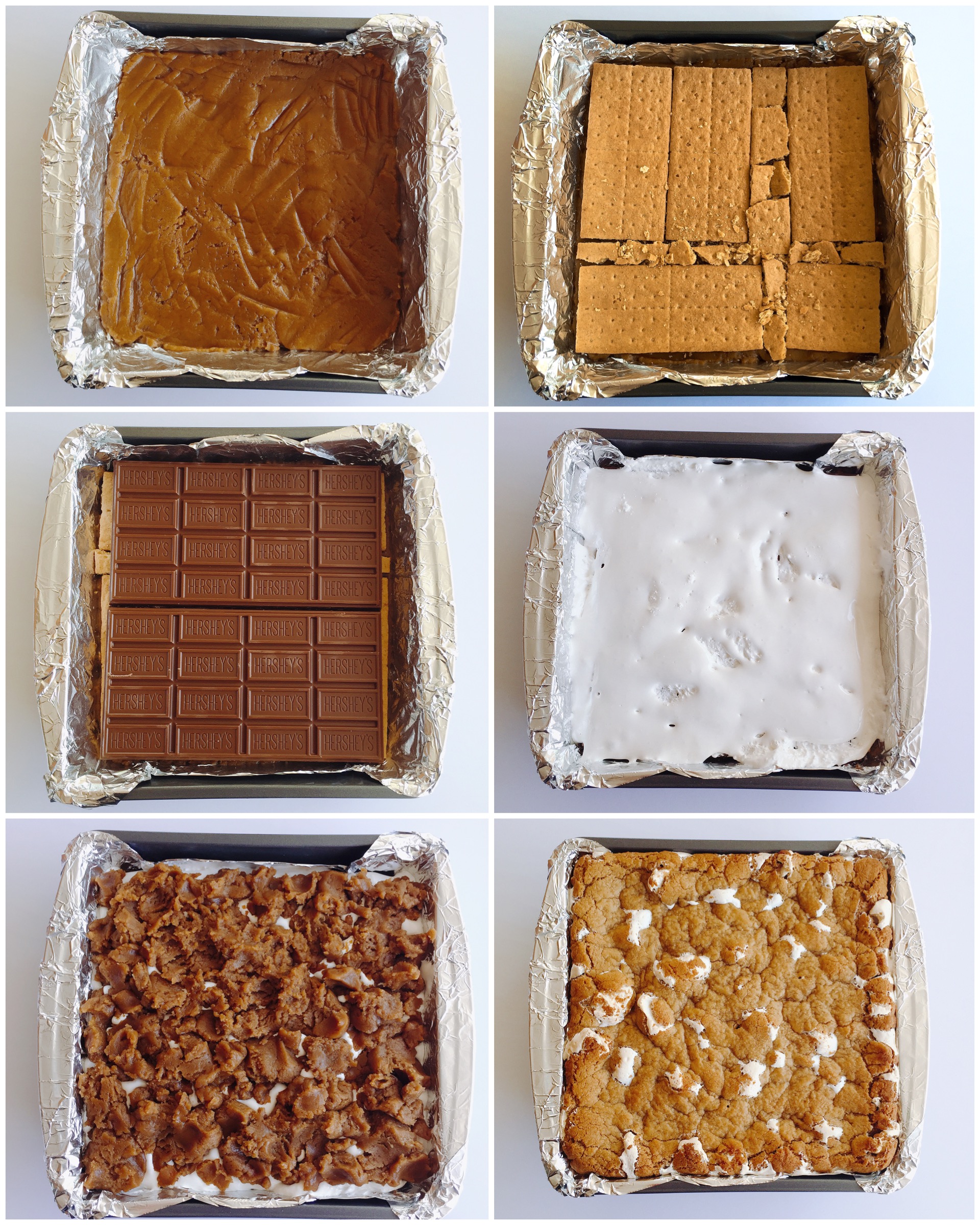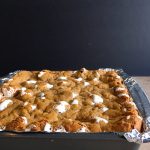 S'mores Stuffed Peanut Butter Blondies
2016-08-14 00:12:21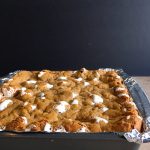 Ingredients
1/2 cup unsalted butter
2 cups dark brown sugar
1/2 cup peanut butter
2 large eggs
1 teaspoon vanilla extract
2 1/2 cups all purpose flour
1 teaspoon baking powder
1/4 teaspoon baking soda
1/2 teaspoon salt
2 giant sized Hershey's milk chocolate bars
7 oz. jar marshmallow creme
4-5 whole graham crackers
Instructions
Preheat the oven to 350°F. Line an 8×8-inch pan with foil, leaving an overhang on all sides, then spray with nonstick baking spray.
In a saucepan over medium heat, melt the butter and brown sugar, stirring constantly until smooth. Remove from the heat, and stir in the peanut butter and allow to cool.
Combine the flour, baking powder, baking soda and salt in a large mixing bowl.
Add the eggs to the cooled peanut butter mixture, one at a time, mixing well after each addition. Add the vanilla extract and stir to combine. Pour the mixture into the prepared dry ingredients, and stir to create a thick, smooth batter.
Divide the dough in half and press half into the prepared pan, spreading evenly to the edges of the pan. Place the graham crackers on top of the dough then the chocolate bars over the graham crackers. Spread the marshmallow creme evenly over the chocolate.
Dollop scoops of the remaining dough on top of the marshmallow creme and flatten completely to cover.
Bake for 20-25 minutes until the top is golden and the edges are slightly browned. Allow to cool in the pan. Cut into 1-2 inch squares and serve. TIP: placing them in the fridge will make it easier to cut.
Sweet Lemon Made http://sweetlemonmade.com/
Recipe adapted from Handle the Heat