Happy National Chocolate Chip Day!! If you were looking for an excuse to make some chocolate chip cookies today, today is the day to have that cheat day because c'mon it's a national holiday! And any reason to make these soft cream cheese chocolate cookies is a good day in my book! These cream cheese chocolate chip cookies are so soft and moist with the addition of a little bit of cream cheese.
Would you believe me if I told you that the secret ingredients to these soft cookies is cream cheese and cornstarch?!? If you don't believe me, give this recipe a try and tell us what you think. The other secret to thick soft cookies is to refrigerate the dough for up to 2 hours or overnight. I know some people hate recipes that require you to refrigerate your dough, but if your dough is warm your cookies will spread while baking and turn out thin.
I love how these cookies are thick without being cakey and the texture of these cookies are a bit chewy around the edges while the interior is soft, tender, and moist.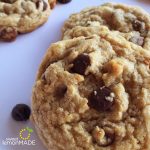 Cream Cheese Chocolate Chip Cookies
2017-08-04 18:43:14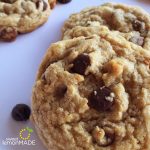 Ingredients
1/2 cup unsalted butter, softened
1/4 cup cream cheese, softened (don't use fat-free, light or whipped)
3/4 cup light brown sugar, packed
1/4 cup granulated sugar
1 large egg
2 teaspoons vanilla extract
2 1/4 cups all-purpose flour
2 teaspoons cornstarch
1 teaspoon baking soda
1/4 teaspoon salt
2 1/4 cups semi-sweet chocolate chips or chunks (I like to use 1 cup chips and 1 1/4 cups chunks)
Instructions
To the bowl of a stand mixer fitted with the paddle attachment, combine the butter, cream cheese (to get an accurate measurement, put it into a 1/4-cup measure cup rather than using the marks on the outside package), sugars, egg, vanilla, and beat on medium-high speed until well-creamed, light and fluffy, about 5 minutes.
Scrape down the sides of the bowl, and add the flour, cornstarch, baking soda, salt, and mix until just combined, about 1 minute.
Add chocolate chips and chunks, and beat for just a minute to incorporate, or fold in by hand.
Using a medium cookie scoop, form heaping mounds. Place on a large plate and flatten mounds slightly with your palm.
Cover with plasticwrap, and refrigerate for at least 2 hours, or up to 5 days, before baking. Baking with warm dough causes cookies to spread and bake thinner and flatter.
Preheat oven to 350F and line a baking sheet with parchment paper or a Silpat Non-Stick Baking Mat and place dough on baking sheet, spaced at least 2 inches apart. Bake for 8 to 9 minutes, or until edges have set and tops are just beginning to set. They will look slightly under cooked, pale and glossy in the center. Rotate pans after 4 minutes and do not bake longer than 10 minutes as cookies will firm up as they cool. (If dough is refrigerated overnight, allow dough to come to room temp for 15 minutes before baking).
Allow cookies to cool on the baking sheet for 5 minutes before removing and transferring to a rack to finish cooling.
Sweet Lemon Made http://sweetlemonmade.com/