I love donuts. And I eat a lot of them. I'm always on the hunt for the best donut spot in every city I visit. And given that today is NATIONAL DONUT DAY, I wanted to share one of my ALL-TIME favorite donut spot with you–Holy Donut in Portland, Maine. Also, just so you know, I'm not the only one obsessed with this place. The have only been open since 2012, but have almost 900 reviews on Yelp and manage to maintain a near perfect 4.8/5 rating, Trip Advisor has over 1,200 glowing reviews.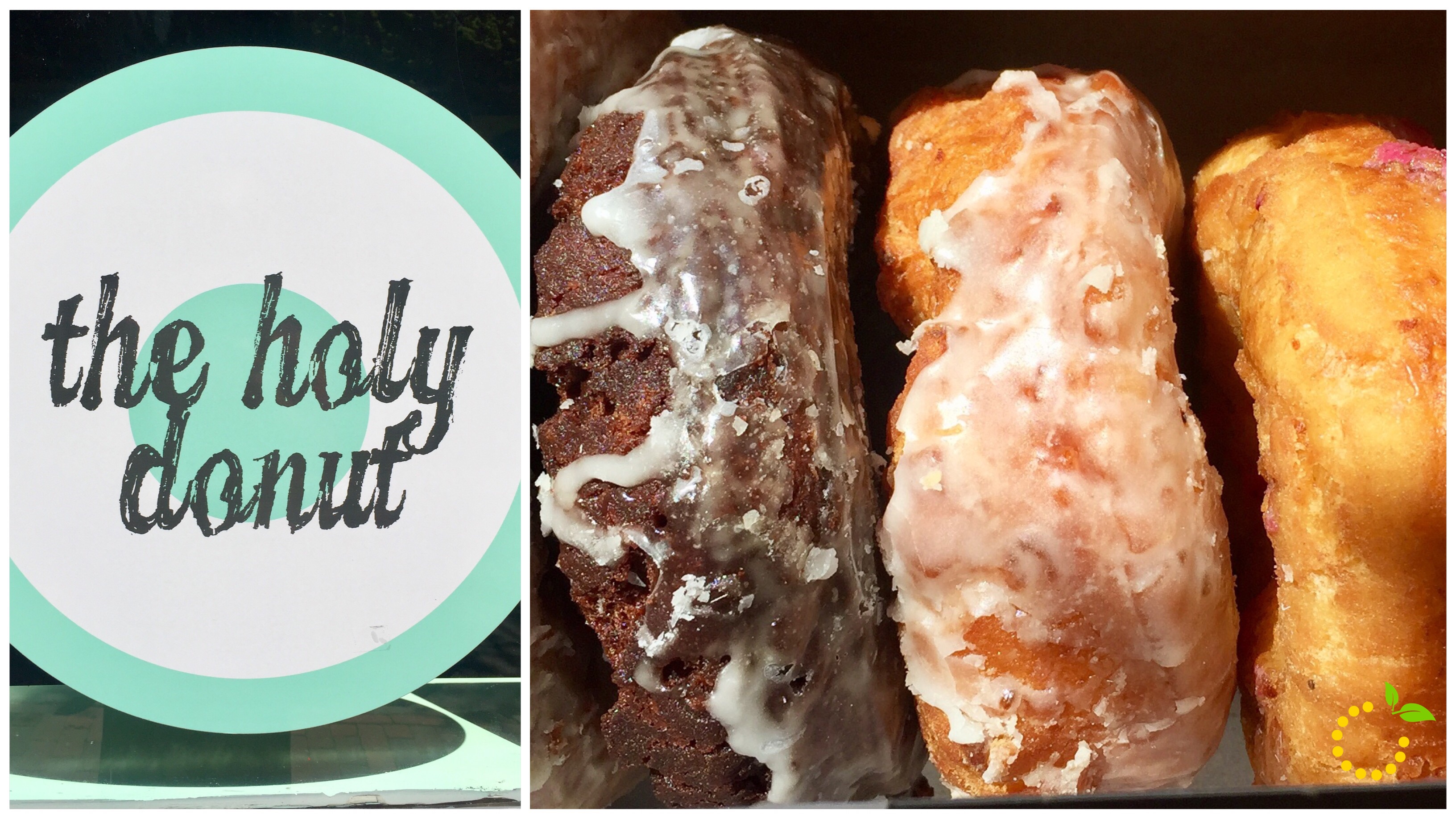 I found this place on a work trip to Portland as, per usual, I was searching for a great donut spot. Some people go sightseeing to get to know a city—I eat donuts. Lucky for me this place was just around the block from my hotel—SCORE. The first day I went there I restrained myself to two donuts. Little did I know that "moderate" decision would only ignite an obsession for these fantastic donuts. You see, these are not just any old donuts. These made-from-scratch donuts use real Maine potatoes as the (not-so) secret ingredient! Yes, potatoes! Who would have thought?? But I'm convinced this is what makes the donuts magical.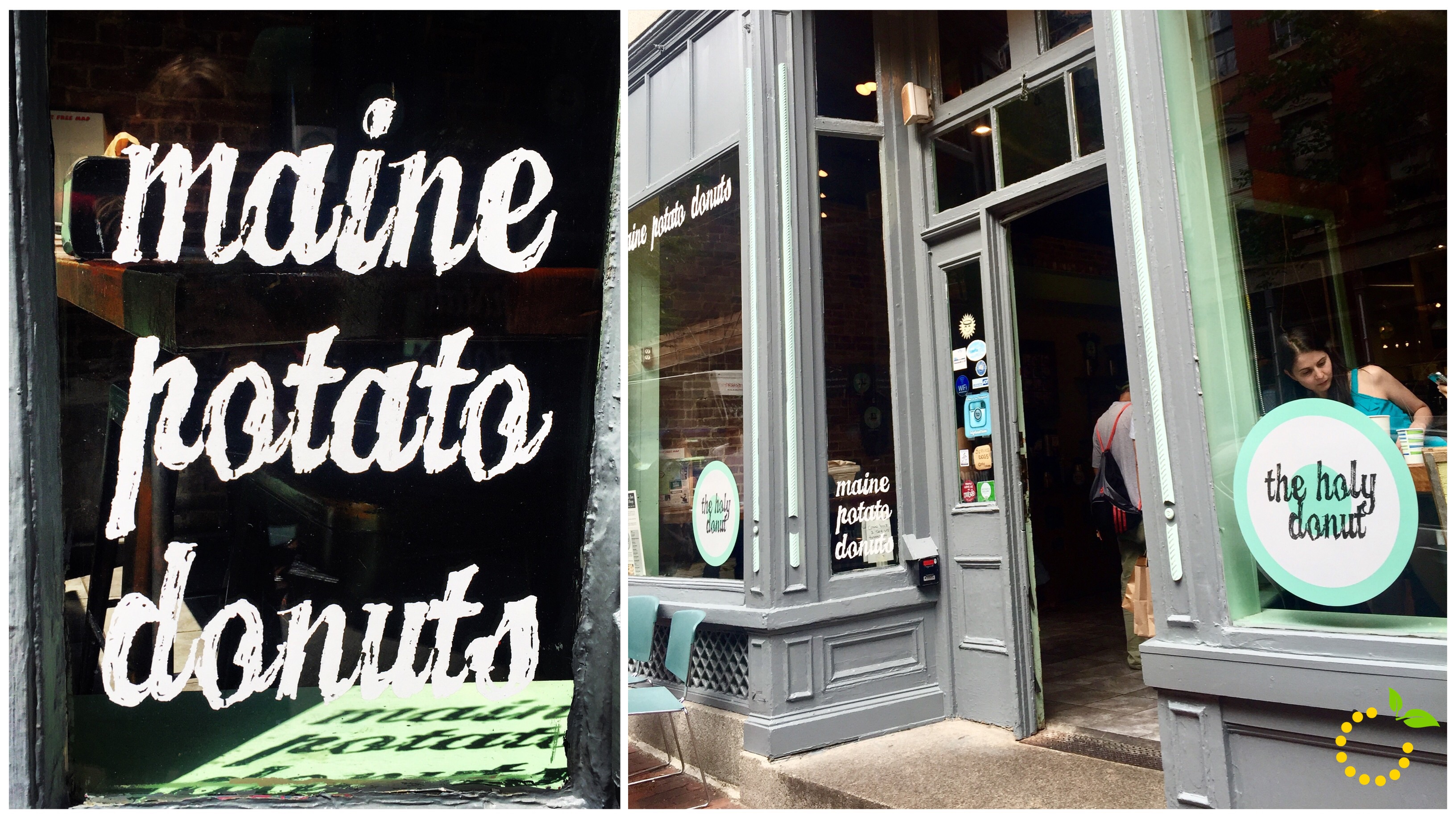 Their texture is superb. They're not quite a cake donuts, but not quite a yeast donuts either. It's a perfect mix of the two. It's like a loaf of potato bread and a pound cake got together and had a donut baby. It's soft and moist with a perfect density that is enough to fill you up, but not weigh you down. I'm a sucker for a maple-bacon donut and these guys hit it out of the park. The sweetness of the dough was not over done and was accented perfectly by a thick maple glaze, studded with small splashes of bacon. It was wow. The triple berry donut had a bright and flavorful glaze made with real berries that was perfectly sweet, perfectly tart, and equally addicting. But we can't overlook the simplistic supremacy of the sweet potato donut. Like its fellow donut friends, the sweet potato donut had a perfect moist, dense, but not heavy texture. The simple sweetness of the sweet potato was accented by a subtle cinnamon-spice undertone that made this baby absolutely delicious. Oh yeah, and then they topped it with a sweet glaze–YUM. every bite was filled with culinary satisfaction. And then there's the dark chocolate sea salt donut…this one was my very favorite. I don't even think I got a good picture of it because I inhaled it SO FAST. I mean, I don't have to tell you about the beautiful combination that is dark chocolate and sea salt, but just imagine all of that awesomeness in a donut. The bitterness of the dark chocolate is a perfect balance to the sweetness of the dough and each bite is punched with a hint of sea salt. The salt really ties all the flavors together in medley of sweet and savory. It's a hands down winner in my book.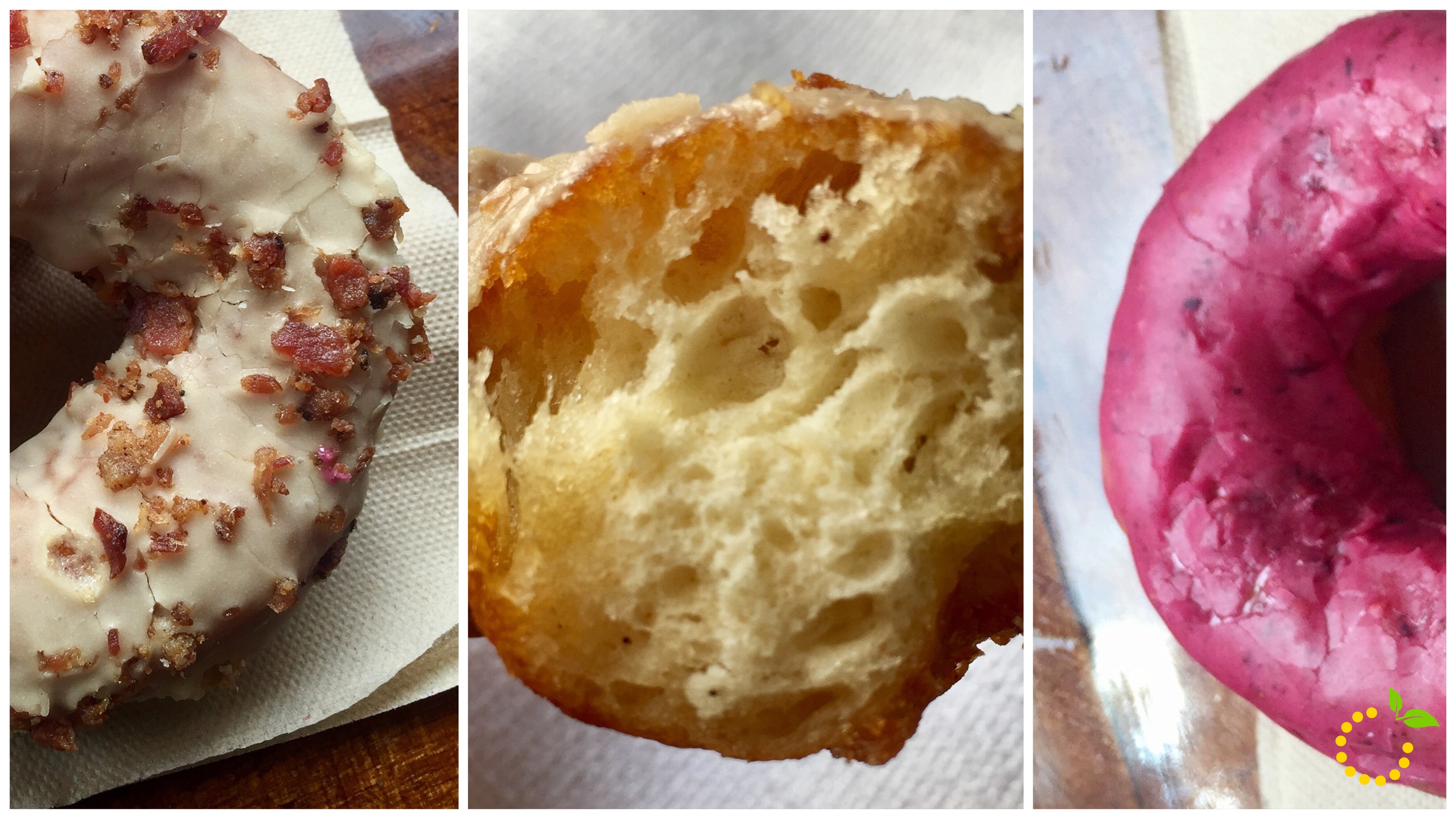 Not only do these donuts taste awesome, but they use fresh, local ingredients in their recipes. In addition to plenty of fresh Maine potatoes, they include the highest quality dark cocoa powder and 60% dark chocolate chips in all chocolate donuts and glazes, and only color their donut glazes with fruit juices or vegetable dyes–no fake colors. And all of the donuts are still hand cut!
Oh these donuts, I could go on and on. Suffice it to say that if you EVER find yourself in Portland MAINE, you've GOT to try these donuts. And if you ever see a donut made from potato dough anywhere else, you should probably get three. Potato donuts are LEGIT.
There are two locations in Portland (but do not worry…THIS IS NOT A CHAIN. You people know how I feel about chain restaurants…)
Holy Donut
7 Exchange St
Portland, ME 04101
Holy Donut
194 Park Ave
Portland, ME 04102