I first fell in love with bacon pancakes when I was living in Dallas. Dallas has some amazing food, especially brunch, and one of my favorite spots, home to the most delicious bacon pancakes ever, was a place called "Breadwinners." Everytime we went there someone had to get the bacon pancakes and there may have been a time or two where we couldn't decide so we ordered them "for the table." Now, if you're the kind of person that orders an extra entree for the table so that you can be sure to try all the awesomeness on the menu, we should be friends. If you're confused by that concept then you should probably just skip to the recipe portion of this post because I'm about to go on and on about my deep love for complex flavors and that would probably just bore you. 😉
Back to the pancakes, so years later while perusing the website of one of my favorites, Joy the Baker, I found this recipe for PEANUT BUTTER and BACON pancakes. Hold the phone! Peanut butter and bacon are one of my favorite flavor combinations, and she put them together in a pancake and topped it with maple syrup??! Be still my soul. Heavenly. This is what I'm talking about–complex flavors! The savory saltiness of the bacon is enhanced by the creaminess of the peanut butter and then rounded out by the sweetness of the maple syrup. Oh, it's amazing. Then I got even crazier and added some bananas. Because who doesn't love bananas and peanut butter? The bananas added a freshness to the rich combination and really sealed the deal. You've gotta try these! They are pretty straightforward, don't require crazy ingredients, and can be whipped up easily on a Sunday morning. So go get that bacon out of the fridge and get cooking!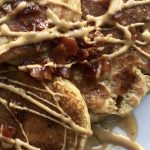 Peanut Butter Bacon Pancakes
2017-04-02 10:18:22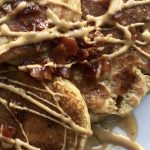 Ingredients
PANCAKES
1 large egg
2 tablespoons unsalted butter, melted
2 tablespoons all-natural peanut butter
1 cup buttermilk
1 teaspoon pure vanilla extract
1 cup all-purpose flour
2 tablespoon brown sugar
1 teaspoon baking powder
1/2 teaspoon baking soda
1/2 teaspoon salt
5 slices crisp bacon, cooled and cut into small pieces
butter or oil for cooking pancakes
BACON MAPLE SYRUP
5 pieces of bacon
1 cup real maple syrup
Instructions
PANCAKES
In a medium bowl beat together eggs, butter, peanut butter, buttermilk, and vanilla. Add flour, sugar, baking powder, baking soda, and salt. Mix well until mostly smooth. Fold in bacon pieces and let batter set for a few minutes.
Heat a nonstick pan over medium-low heat. Add a teaspoon of oil or butter to the pan, or spray with cooking spray.
Pour 2 Tablespoons of batter onto the griddle. Cook on the first side until bubbles that form start to pop. You can also gently lift up the pancake to make sure the bottom is not overcooking, if it is the pan may be too hot and you will need to adjust the heat. Flip the pancake over with a spatula and cook until golden brown. Repeat until all the batter is gone. Let cooked pancakes rest on a heat proof plate in a 200 degree F oven until ready to serve.
BACON MAPLE SYRUP
Cook bacon until crisp.Drain on plate with paper towel. Reserve 1 tablespoon of bacon drippings for syrup.
Crumble or chop bacon to small pieces and place in small saucepan. Add maple syrup and bacon drippings.
Bring to a quick boil and then simmer on low for 5-10 minutes so the bacon and maple flavors can meld together. Then you're ready to jazz up your pancakes.
PEANUT BUTTER DRIZZLE
melt 3-4 tablespoons of peanut butter in the microwave for 10 second increments until smooth and creamy.
Drizzle on top of pancakes and bacon syrup.
Lastly, if you're feeling crazy, slice a banana and place a few slice atop the pancake.
Notes
Make a note for the buttermilk… "If you don't have buttermilk you can make your own by adding 1 tablespoon of vinegar or lemon juice to 1 cup of milk. Let it sit for a few minutes and then add to the mix in place of buttermilk.
Sweet Lemon Made http://sweetlemonmade.com/